Ugly Reality of Yamuna – India's Most Polluted River (In Pictures)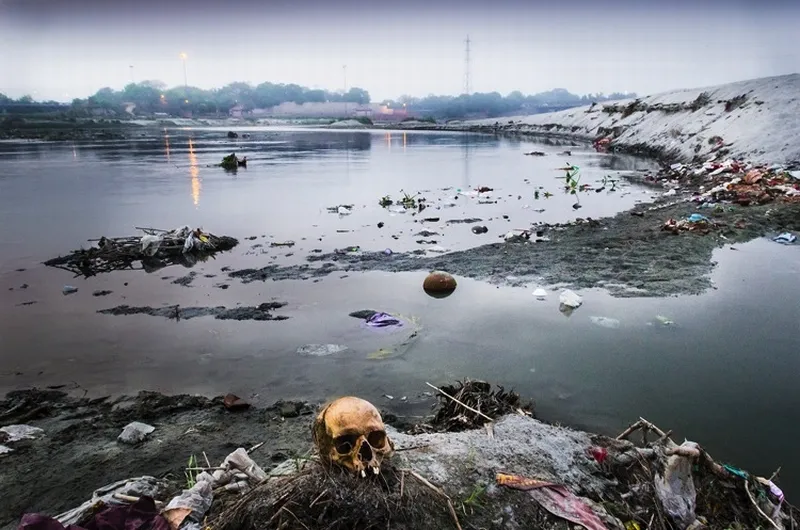 Hindus believe that one dip in the sacred River Yamuna frees one from the torments of death.  But the burden of the overgrowing population and unchecked dumping of sewage and industrial waste has rather turned it into a horrible scene.  Now, River Yamuna is seeking salvation from the tormenting pollution.
The Yamuna, also called Jammuna, is the second largest tributary river of the Ganges that flows through Indo-Gangetic Plains. It originates from the Yamunotri Glacier in the Himalayas and flows through Uttarakhand, Haryana, Delhi and Uttar Pradesh. The water is clear and blue until the River reaches Haryana. Thereafter, tons of untreated sewage, industrial waste, domestic waste, and dumped garbage turn it into one of the world's most polluted rivers.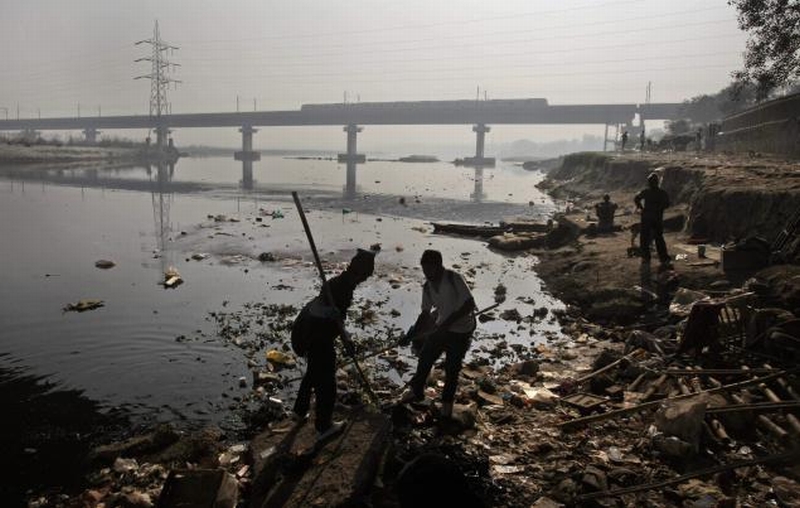 Urbanization and industrialization has literally killed River Yamuna. New Delhi, that generates 1,900 million liters per day of sewage, dumps 58 percent of its waste into the Yamuna. Untreated waste that flows into it from several cities along its banks in Haryana and Uttar Pradesh is Yamuna's biggest enemies.
In Uttar Pradesh, the river is almost invisible, covered with pollutants and foam. The government has spent Rs 1,514.70 crore under Yamuna Action Plan Phase-I and Phase-II for creation of new sewage treatment capacity of 942.25 million liters per day in Delhi, Haryana and Uttar Pradesh. However, the scenario doesn't seem to have changed in 2015.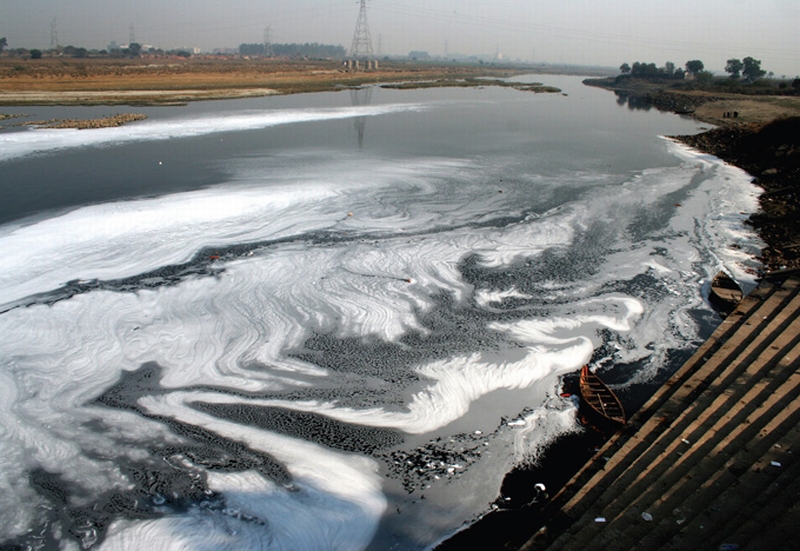 According to a 2015 report,
The Yamuna, by the time it flows through Agra, has nearly 50 times more biochemical oxygen demand (BOD) than the permissible limit. The Central Water Commission (CWC) has declared that the river water at Agra is safe neither for irrigation nor for domestic use. Water in the river, now polluted beyond repair, an official said, is also contaminating groundwater.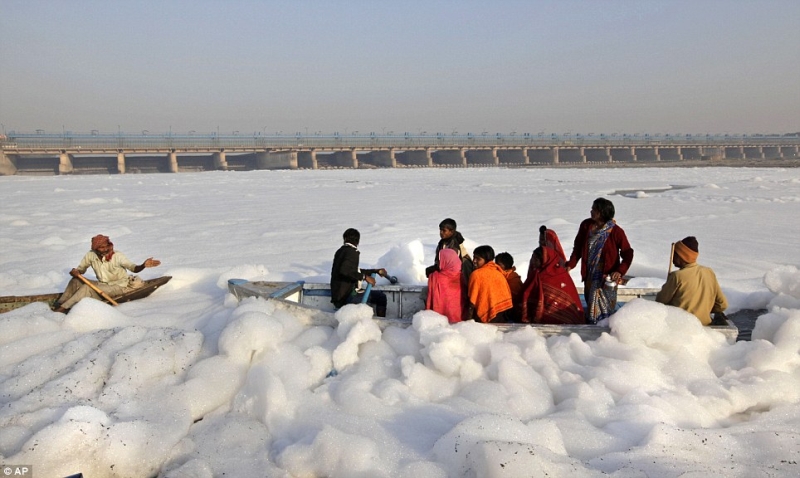 According to the Central Water Commission (CWC),
The current level of BOD in the Yamuna is 55 milligrams per litre (mg/L), which is enormously high as compared to the permissible limit of 2 mg/L. This contamination level is irreversible. Water is unusable, both for irrigation and drinking. In fact, polluted water from the Yamuna is also partially responsible for the contamination of groundwater in Agra, as the TDS (total dissolved salt) in water has jumped to almost 1500 mg/L from 500 mg/L, three times the permissible limit.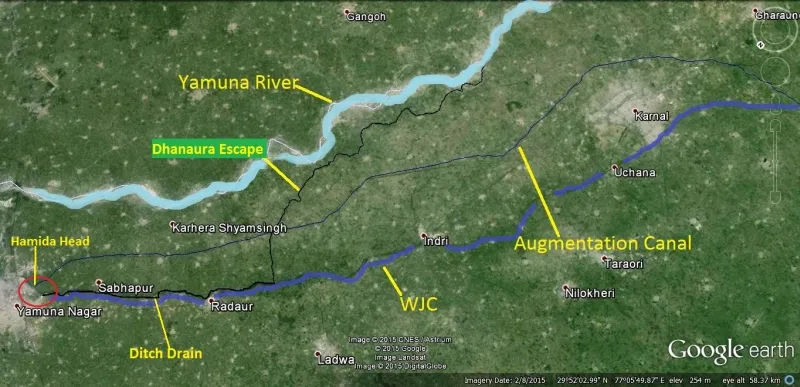 Dhanaura Escape (Black Line, it also carries effluents brought by Ditch drain) & Augmentation Canal (Blue Line) carry polluted and potable water in different directions, both ultimately reach Delhi
According to health experts,
Even the vegetables coming from neighboring towns like Ghaziabad and Faridabad – where farmers rely on polluted rivers for irrigation add to the water pollution-related complications for Delhiites. The drinking water that most Delhites get had been found to be contaminated with sewage water and could be harmful to health. A shocking 81 out of 116 samples of such water – it translates to almost 70 percent – supplied across the Capital by the DJB have failed a purity test conducted by the Municipal Corporation of Delhi in 2012.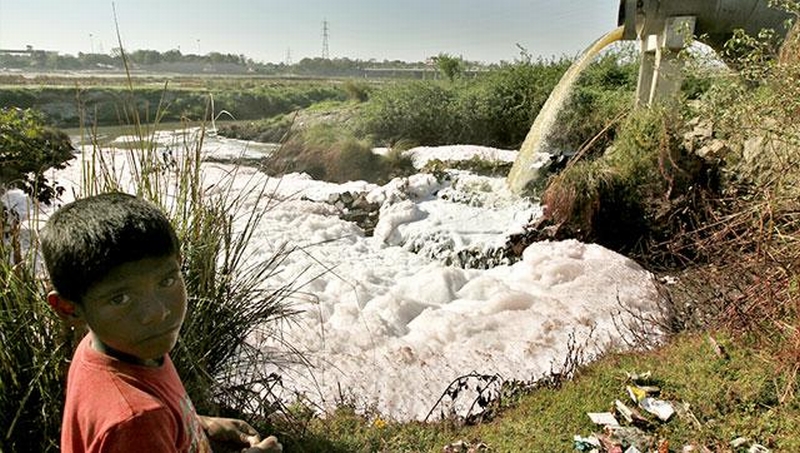 River Yamuna is now considered beyond redemption from pollution. The contamination has reached such a high level that it's almost impossible to clean it. It'll be a miracle if the Yamuna could be revived. Take a look at some of the pictures depicting the death of India's most polluted river – Yamuna. Remember, almost every river in India is heading toward the same future as India is still not serious regarding prevention of dumping pollutants into its rivers.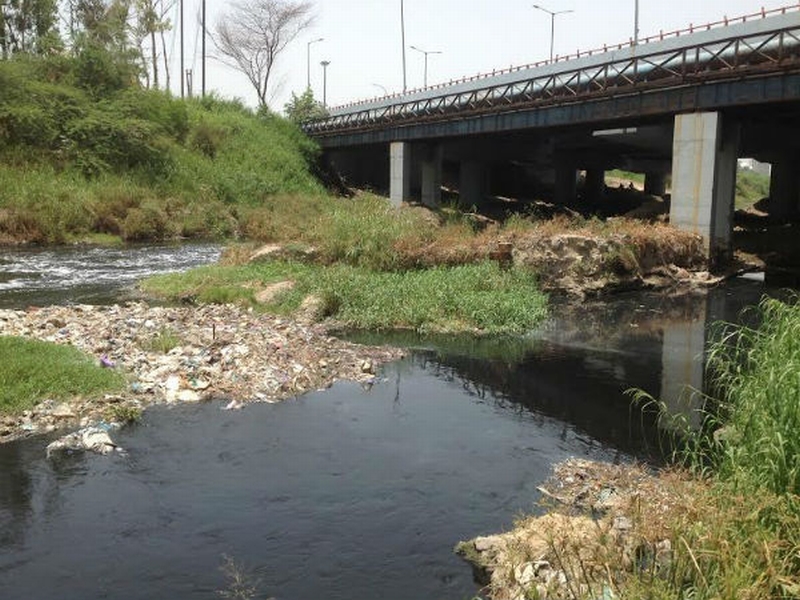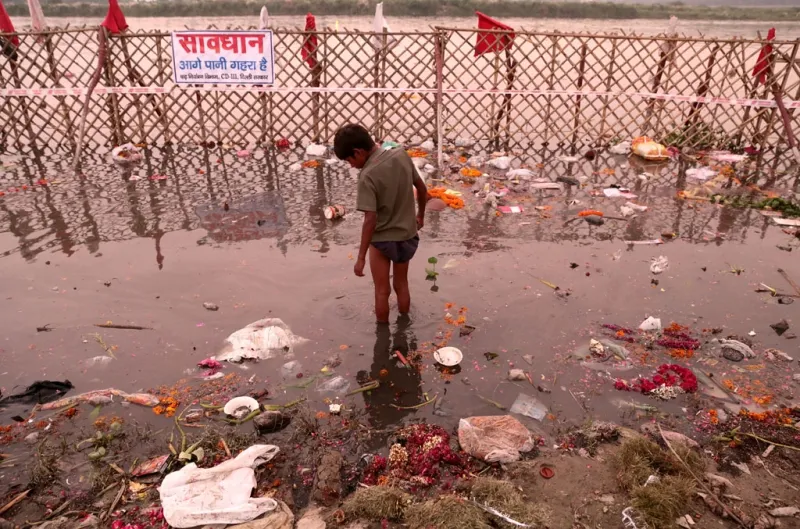 Yamuna after immersion of Ganesh idols on Ganesh Chaturthi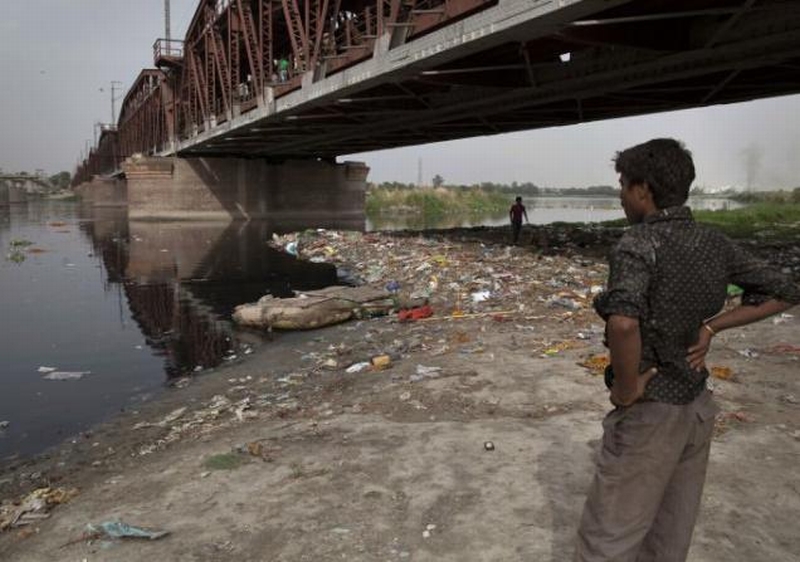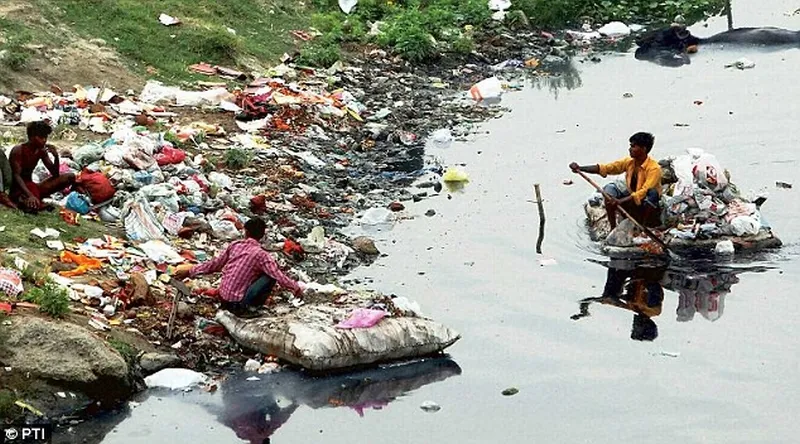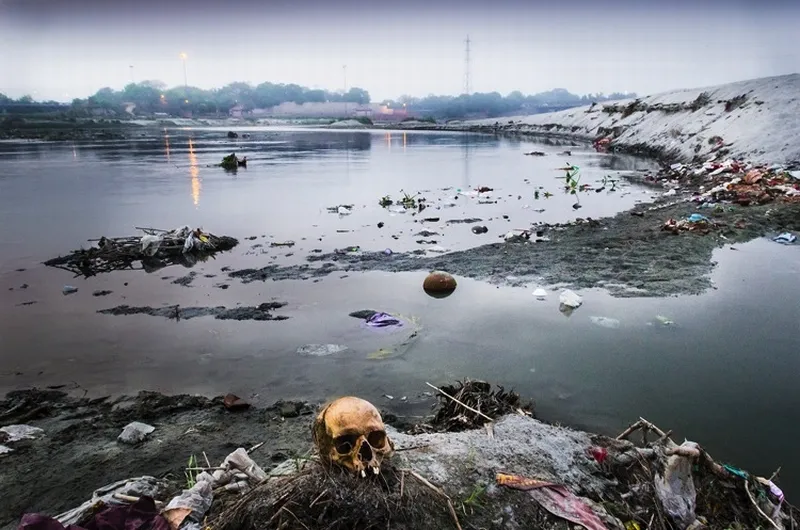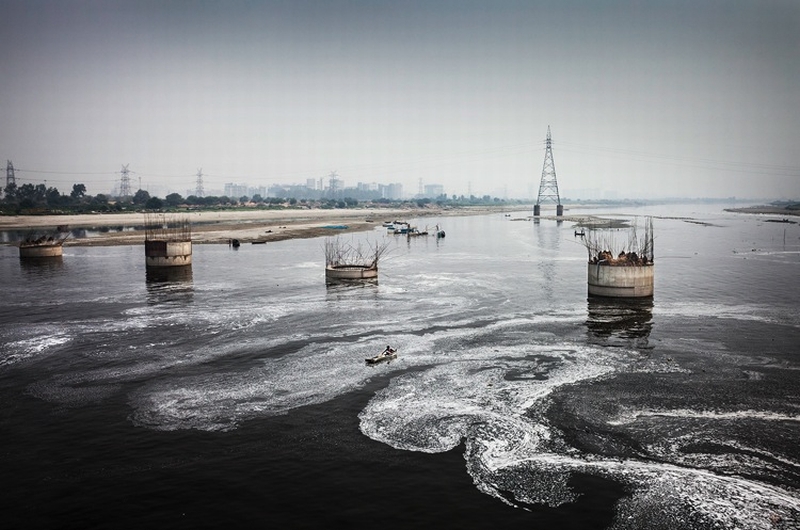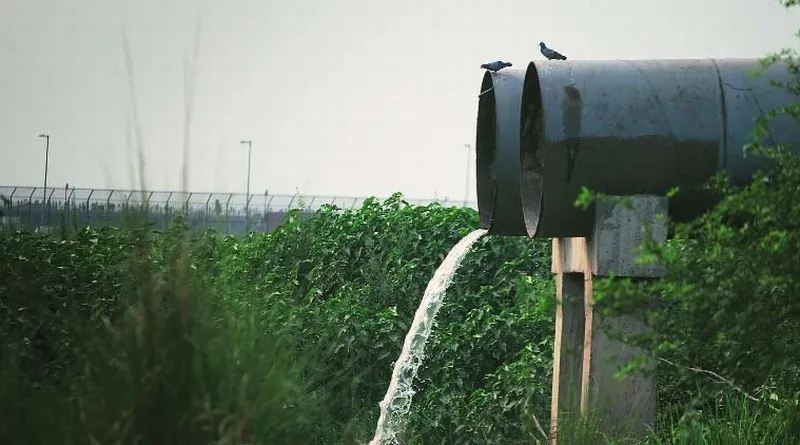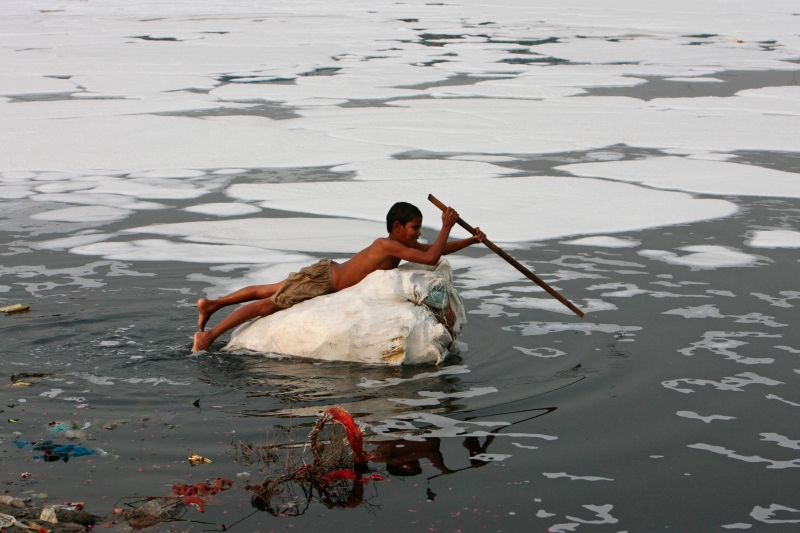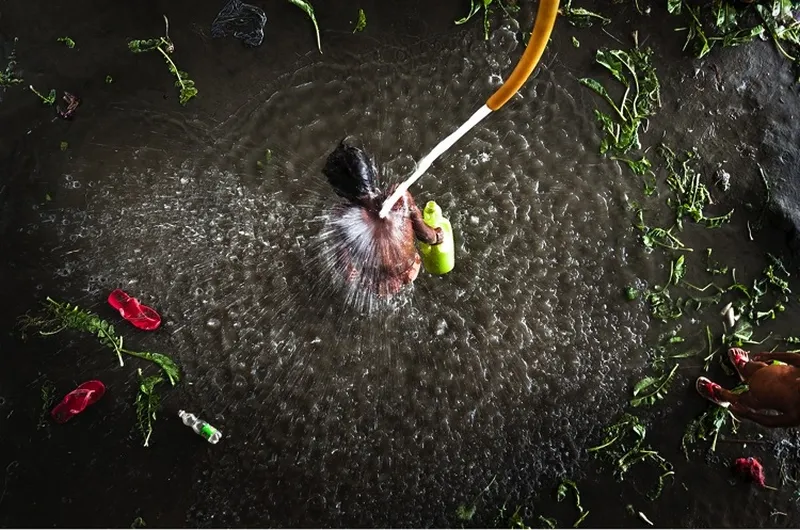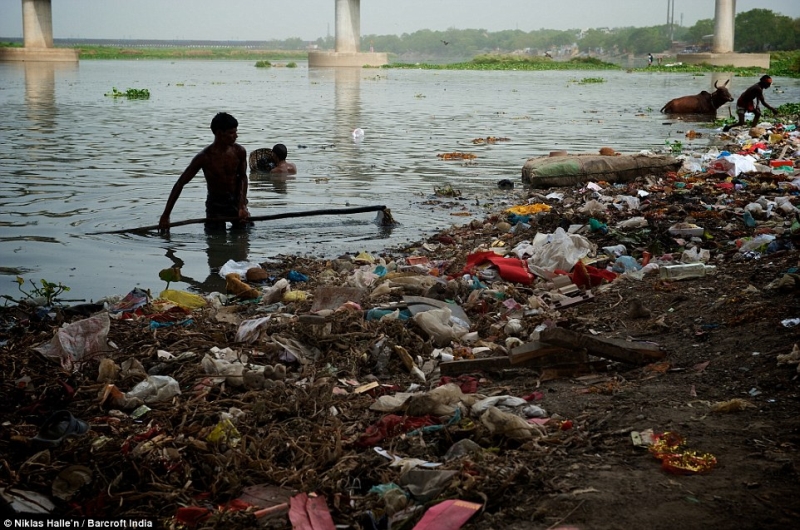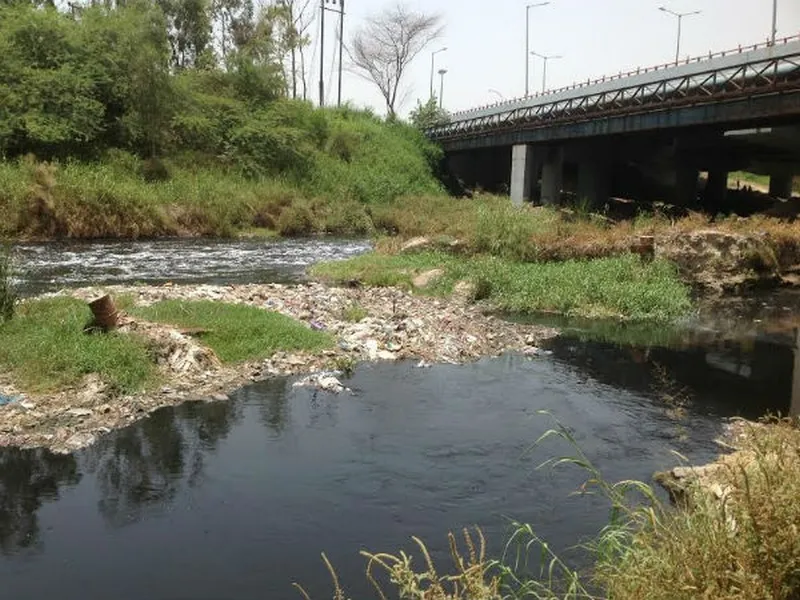 Industrial waste with all toxic chemicals has caused the formation of foam over the Yamuna that completely covers it.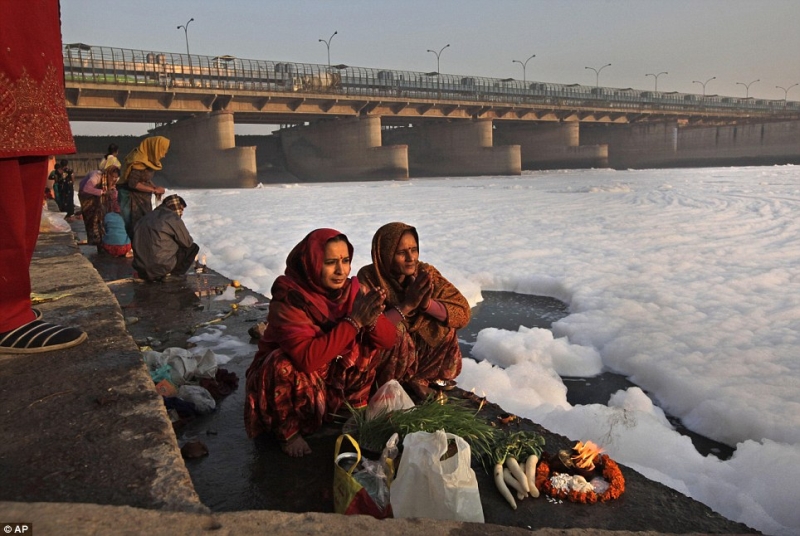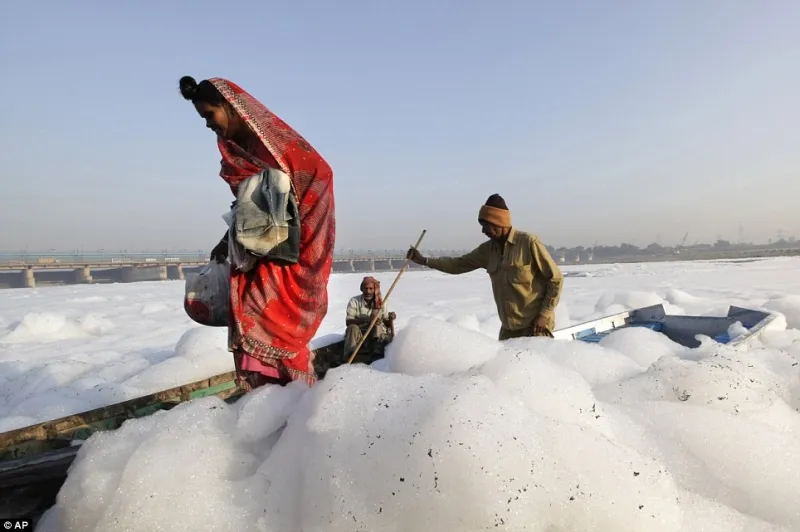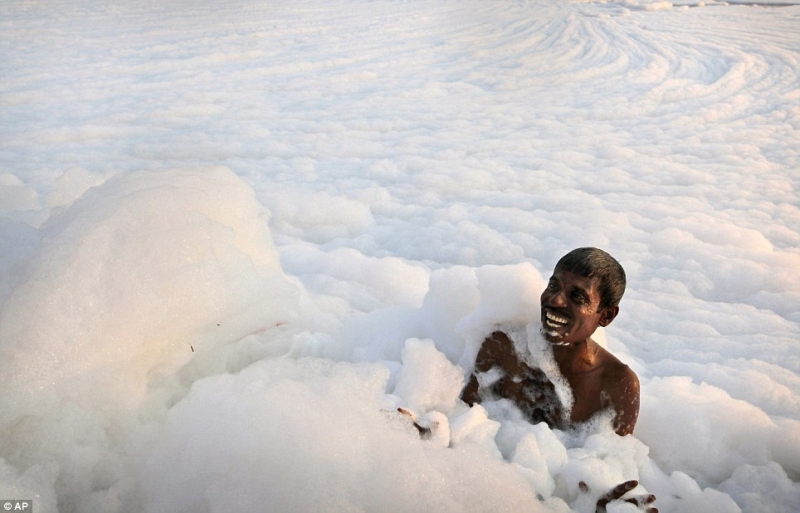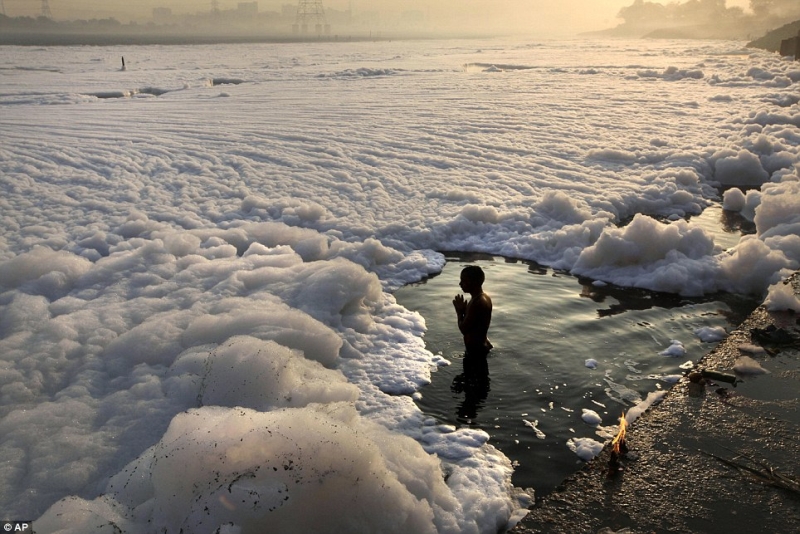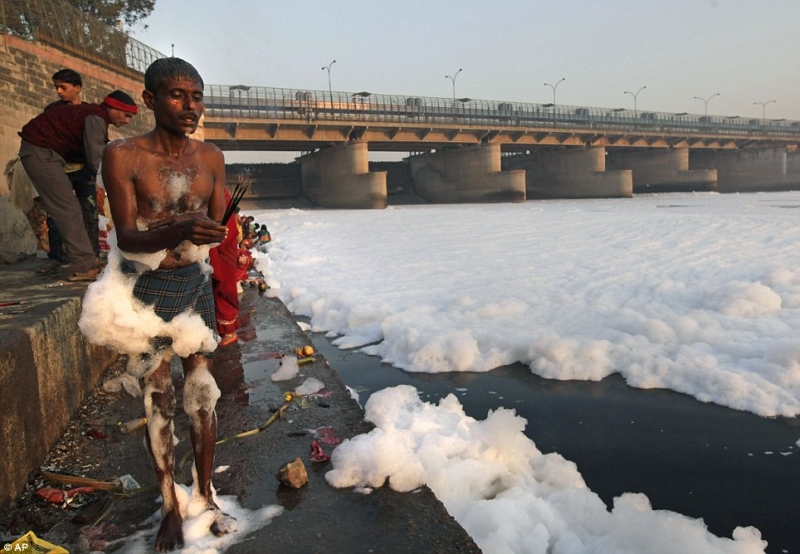 People still bath in Yamuna, worship it and offer their daily prayers early morning.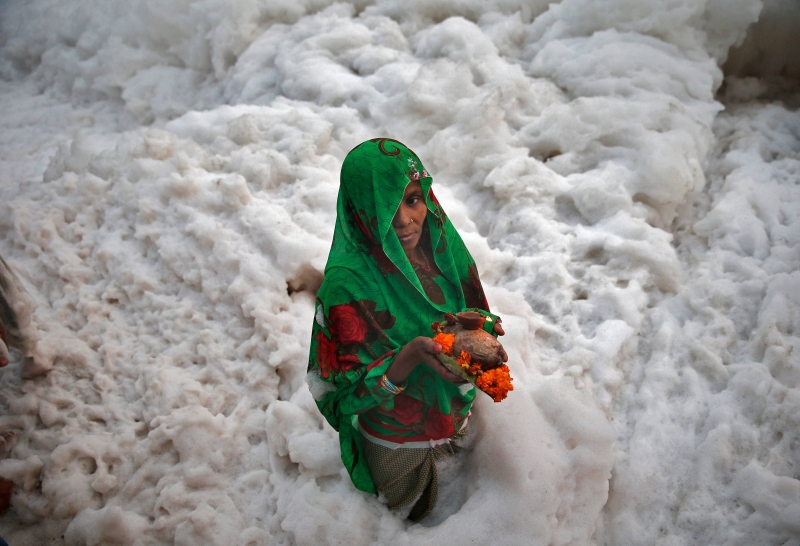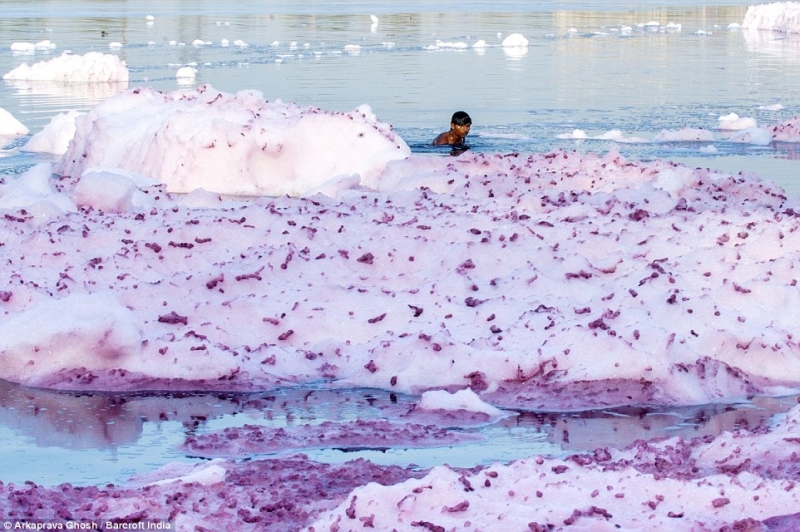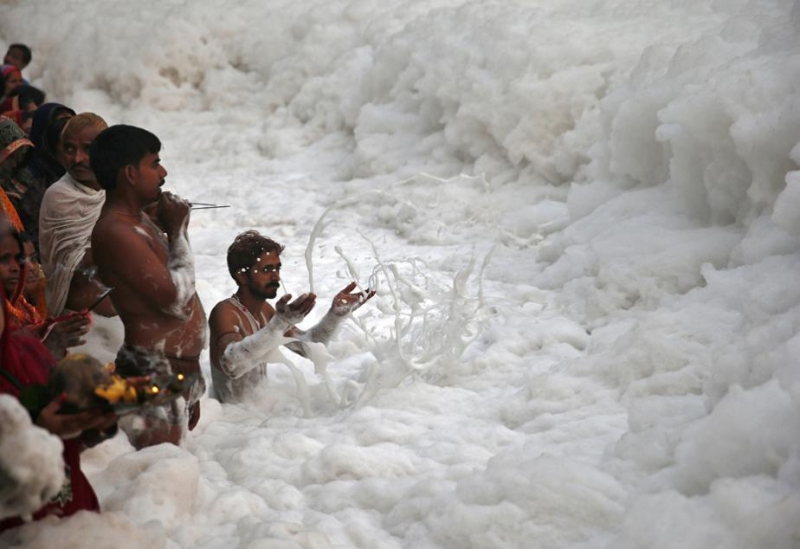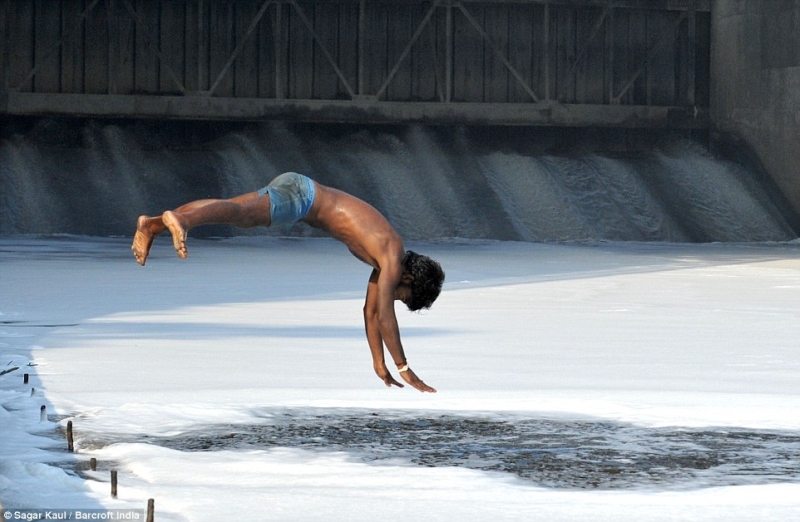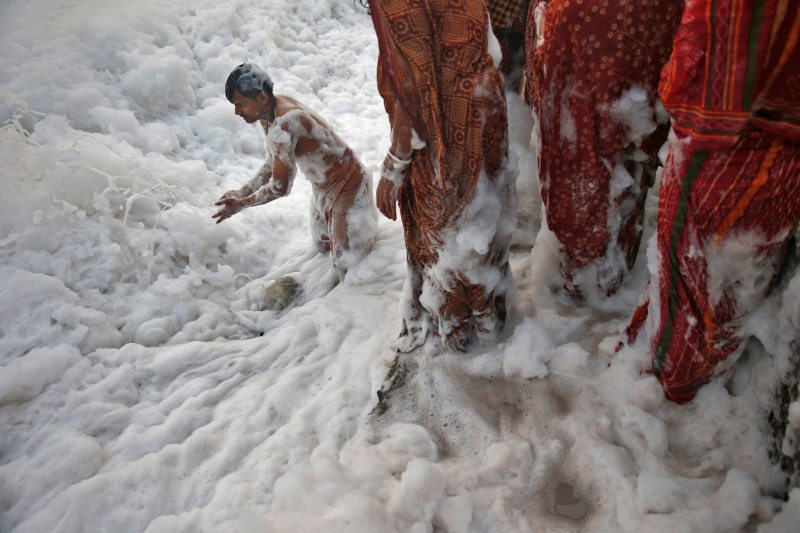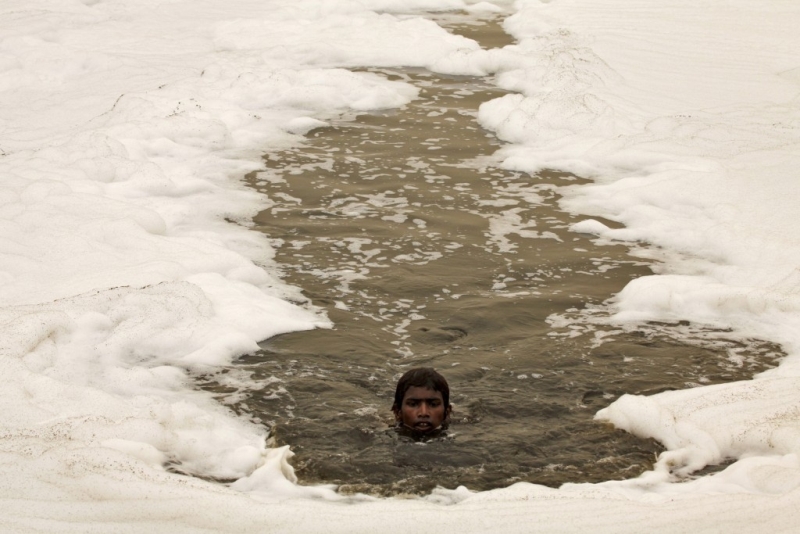 Image Credits: Daily Mail/ Hindustan Times/Sand DRP