Air India recycles 3,500kg of green waste, saves tons from reaching overflowing landfills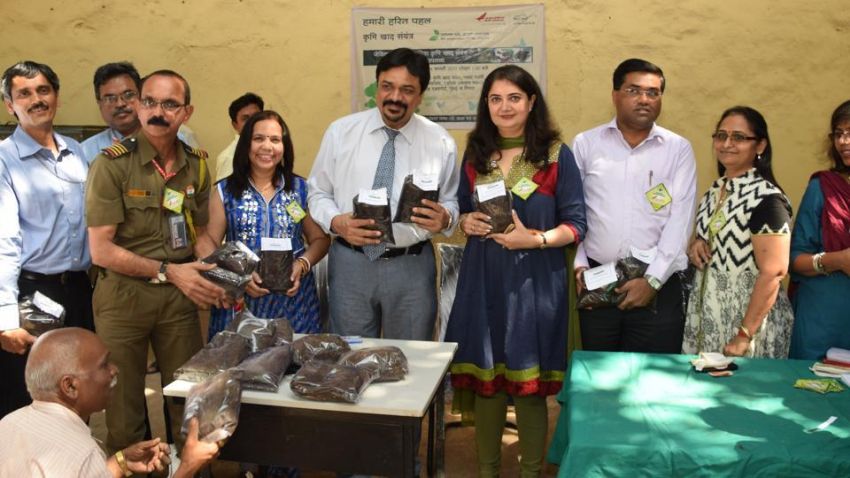 India's national airliner – Air India employees at old airport complex, kalina, Mumbai are voluntarily recycling organic waste at source.
Over past year, Air India's environmental wing has converted over 3,500 kilogram of green waste into 500kg of organic manure.
The airliner recently completed a year of its 'Recycle Green Project' – and as successful initiative, provided all the 500kg of generated organic manure to its employees to use in tree plantation and gardening within the old airport complex.
In order to save a great deal of waste from landing in duping grounds outside the city, Air India employees have resorted to vermiculture – using earthworms to create compost or vermicompost. Vermiculture is the safest and most economical way to dispose green waste.
Air India employees have started the Recycle Green Project with the idea to explore alternative ways for disposal of organic waste to reduce air pollution.
The project has seen over 200 volunteers participate with the objective to spread energy conservation and recycling awareness.
To understand the alternatives, Air India employees approached Brihanmumbai Municipal Corporation (BMC) for consultation. Post consultation, it was decided to convert green waste into organic manure using vermiculture.
With active guidance from BMC and Hariyali NGO, Air India employees created four crates for vermicompost from scrapped material in their complex.
At the vermicomposting setup on their premises, Air India employees were able to recycle 3,500kg of green waste into 500kg of organic soil.
Air India's effort will save dry waste from being burnt, causing air pollution, and help reduce carbon emissions that would be produced in transporting waste to dumping sites on the city outskirts.
Via: HT