Ciralight SunTracker Daylighting Device brings sunlight indoors all day long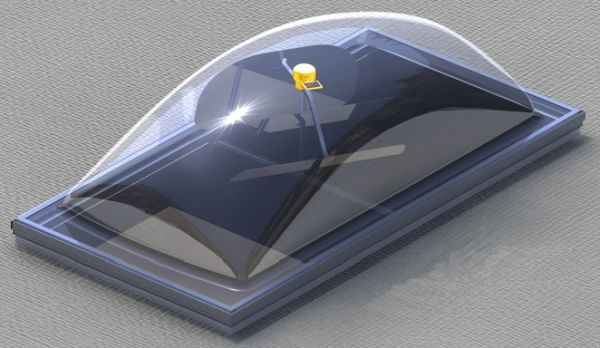 Southern California based clean-tech company Ciralight Global, Inc. has developed SunTracker daylighting device which brings natural sunlight inside your home or office all day long. Unlike conventional daylighting systems such as standard skylight and windows which provide limited sunlight to you, the SunTracker ensures that you get even lighting throughout the day. SunTracker Skylights from Ciralight uses revolutionary solar-powered GPS Controller which tracks the sun from sunrise to sunset and keeps the triple mirror array angled towards the sun all day. The sunlight is then reflected by the mirrors and transmitted into the entire space of the building's interior through a prismatic diffusion lens which distributes the sunlight uniformly.
The SunTracker system consists of specifically shaped Dome which is available in either Acrylic or Polycarbonate and has been tested to withstand over 800 lbs. The Dome assembly frame holds the Dome strongly and keeps the GPS Controller and Mirrors safe from climate and external elements. Other system parts include Solar Powered GPS Controller, triple mirror array, Lightwell panels and Diffuser Lens. According to the company, SunTracker delivers up to 300% more sunlight than traditional skylights reducing our dependence on electrical lighting and boosts our health too. SunTracker by Ciralight is available in two size options: SunTracker 400 (4'x4′) and SunTracker 800 (4'x8′).
Via: Treehugger/PP