Donkey Milk Costs a Bomb Owing to its Medical Values and Skincare Properties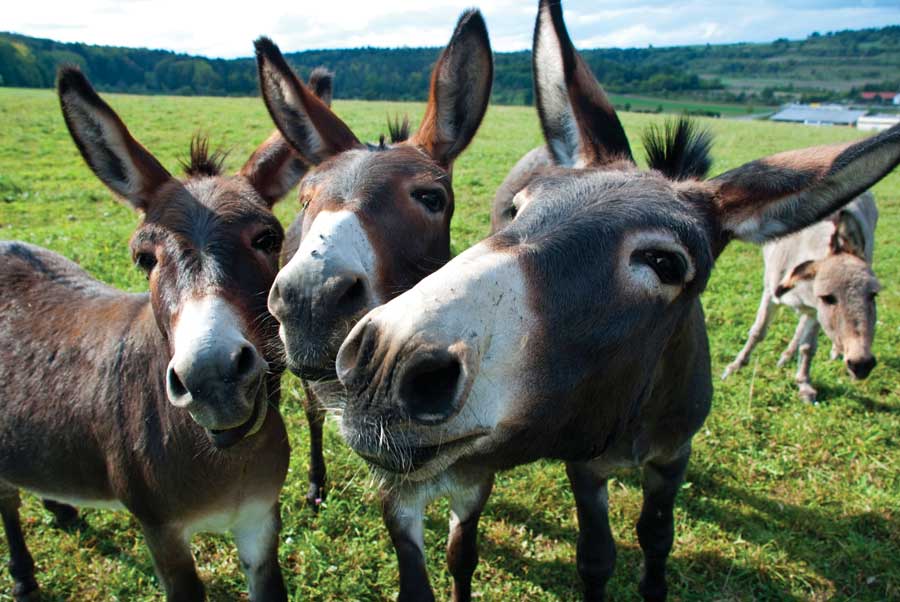 Much underestimated and overexploited donkey is considered nothing more than a beast of burden. But do you know that Cleopatra used to bathe in donkey milk every day for skin-related benefits? Over 500 donkeys were milked every day to produce milk for her bath. That may sound like one of those exaggerated stories about Cleopatra, but it's true.
Hippocrates (460 – 370 BC), who is also known as the father of medicine, prescribed donkey's milk beneficial for numerous purposes, such as liver troubles infectious diseases, fevers, oedema, nose bleeds, poisonings, and wounds.
However, in 2014, Pope Francis had revealed that he was fed donkey milk during his childhood in Argentina to supplement his mother's milk. An Italian company, Eurolactis Italia had gifted two milk-producing donkeys to the Pope along with some milk donation to Bambin Besu (Baby Jesus) pediatric hospital.
In India, one-liter donkey milk sells for over 4000 INR (~$56). Most people are likely to find it a joke, but it's true that donkey milk is one of the most expensive milks in the world. It is also true that the world's most expensive cheese is made from donkey milk.
Some Indian nomadic tribes such as those from Vemulawada in Telengana, a South Indian state, come to cities to sell donkey milk. The rate of donkey milk can be anywhere between 30 to 50 INR per 10 ml. That means one-liter donkey milk cost over 30,000 INR. It's like a luxury when compared to cow milk that sells for about 40 to 45 INR per liter in India.
There are two reasons why donkey milk is so costly. First, donkey milk has been recognized for its medical values since ancient times, and secondly, while a cow can produce over 10 liters of milk every day, a donkey gives only around 100 to 200 ml per day.
The donkey milk is considered healthy for newborns, not only in India but some other parts of the world as well, especially in Italy. It's believed that donkey milk builds immunity in newborn. It protects them from cold and other ailments such as lack of appetite, acidity, etc.
This belief about medical value isn't limited to a few tribes in India. Some European countries and people in South Korea find it an effective cure for eczema, syphilis, scabies, itch, belching, ringworm, piles, asthma, fungal infections, insomnia, etc.
A reason why in Europe donkey milk sells for around €70 (~$77) per litre. In Cyprus donkey milk is used to make expensive soaps, liqueur, chocolates and cosmetics. The soap and lotions are considered an excellent cure for psoriasis and skin related diseases.
Dr. Photis Papademas, a lecturer in dairy science at the Cyprus University of Technology, studied those taking donkey milk and reported remarkable results, especially among kids with asthma, eczema and other skin conditions. In Cyprus, 150 ml donkey milk sells for about £4.75.
Scientifically, donkey milk is considered to be closest to human breast milk. It's low in fat and rich in lactose. It contains protective anti-bacterial agents which are 200 times more active than in cow's milk. That means donkey milk is free of germs. The UN's Food and Agriculture Organization has also hailed its "particular nutritional benefits" with a protein profile that may make it a suitable alternative for those allergic to cow milk.
Donkey milk has low saturated fat content and high levels of omega three and six (nutrients found in oily fish) that helps in lowering cholesterol.
Donkeys have a single stomach like humans, and their monogastric digestive system makes it different from other multi-stomached ruminants such as cows, whose milk contains a high bacterial load.
A senior Ayurveda doctor, V Suseela, from Sri Ayurveda Health Centre Srinagar claims that donkey milk is the best medicine for newborns suffering from asthma, tuberculosis and throat infections.
Another doctor, Venkateswara Rao, explains,
"It has been used since ancient times to battle asthma and respiratory allergies and is fed to babies aged between 6-8 months for good health. The milk also enjoys a good demand in metros like Bangalore and Chennai. It also helps skin become smooth and glowing and is used in cosmetic products. It is no coincidence that Cleopatra used to bathe daily in donkey's milk and 700 donkeys were milked everyday just for her."
Some researchers believe it to be only a myth. From their point of view unhygienic handling could lead to infections. They also suggest that proteins and sugar levels vary in donkey milk, and it increases the chances of developing infections in newborns and can result in diarrhea as well.
Still, the majority agree on the aforementioned values of donkey milk. With such high demand and high price, donkey milk market remains limited. However, entrepreneurs suggest, donkey milk could be the next big thing or trend in the skin-care product market, if not so reckoned for its medical values.
Presently, Eurolactis, an Italian dairy company, is the world's first, and only company, to have launched carton-packed donkey milk.