India to replace 35 million conventional streetlights with energy-efficient LEDs in 2 years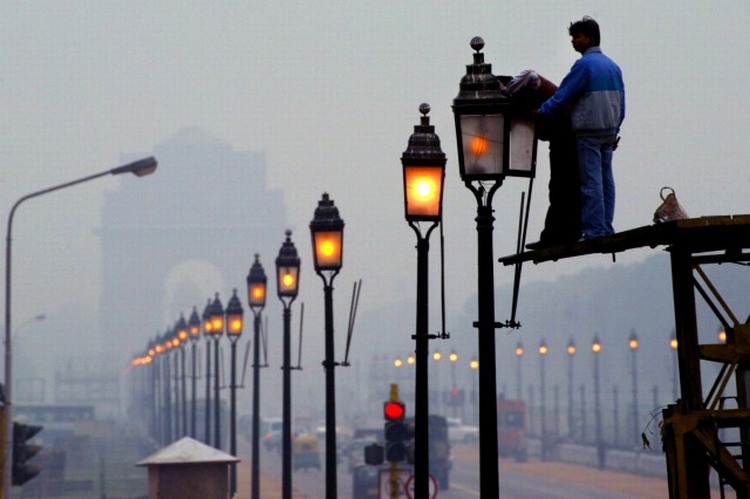 Sharp drop in the price of LED bulbs has bring forth a change in the attitude of the consumers as well as that of the governments. For example, India's energy minister, Piyush Goyal, has announced that India will replace all conventional streetlights with LED ones in next two years.
Now, a LED bulb costs about 73 INR as compared to about 312 INR last year.
That means a lot of saving on bills. India, a country with second largest population, is reported to have, perhaps, world's largest streetlight network with over 35 million of them installed all over the nation.
Annually, the whole network requires over 3, 400 MW electricity, which can come down to 1,400 MW with LEDs. India will save about 10 billion kWh electricity worth over $850 million.
Against, global average of just 13%, India's 18% share of total produced electricity is consumed for lighting purpose.
So, it'll be a great step for India to encourage efforts to save energy because producing cost both money and labor.
The National Programme for LED-based Home and Street Lighting, launched in January 2015 by Narendra Modi, aimed at covering 100 cities by March 2016 in the first phase, and remaining cities by 2019. The target included 770 million bulbs and 3 million street lights.
As Urban Local Bodies (ULBs) such as municipal corporation can't afford the cost of installing LEDs, four central power agencies has joined hands to form a company Energy Efficiency Services Limited (EESL), which will also operate as a full-fledged Energy Service Company (ESCO). The EESL will provide upfront funding for the ULBs.
The EESL plans to recover the cost over a period of next seven years by selling the savings (on account of lower electricity bills).
India matters a lot on global level, especially when it's about carbon emissions, which are on constant rise. India's demand for electricity is increasing with economic growth. India has already bagged the award for the most polluted city (Delhi) in the world. However, Indian government is now forced to wake up by global pressure to cut emissions.
India is looking to increase its renewable energy generation. India's Prime Minister Narendra Modi has promised his people 160 GW (100 solar + 60 wind) renewable energy generations capacity by 2022.
There is one more step that India seems to have realized; saving electricity, whenever it can be, howsoever it can be.
There is a lot that can be done to save energy. Intelligent lighting control systems that asses the requirement in particular area based on various factors such as traffic and pedestrian movement, or after midnight, streetlights dim automatically and so on. Small things matter a lot in terms of saving electricity, thus, money.
However, there is huge hurdle called corruption. Indian parliament is kind of hub for it. In such large scale projects, the the LED makers and suppliers would look to grab the deal at any cost, and Indian politicians cannot miss the importunity to keep their commissions while awarding the tenders.