India's first solar-powered hydrogen fueling station commissioned by Air Product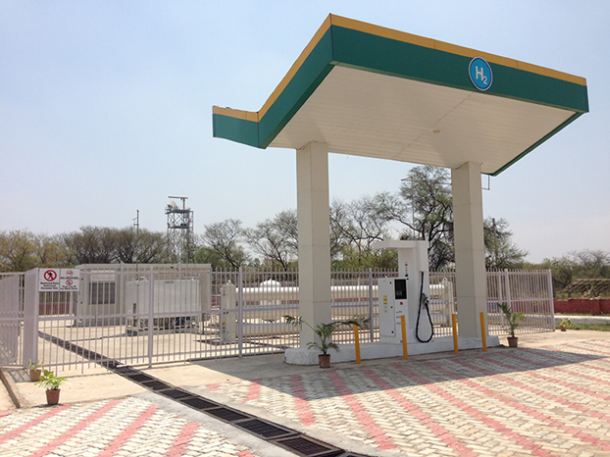 Indian energy sector and Ministry of New and Renewable Energy are aggressively looking forward towards cleaner energy sources. India has already announced that nation strives to achieve 100 GW solar energy mark by the end of 2022.
Now, India has received its first solar-powered hydrogen fuel station SmartFuel from Air Products as a part of a mass public transport bus fueling and vehicle demonstration program. The station will generate clean hydrogen from solar energy through electrolysis.
The fuel station is installed near Delhi at the Solar Energy Centre. It's only a demonstration plan but is likely to get green light and we are going to see installation of more such clean fueling stations. Transportation activity, using fossil fuel, is a man made situation where ecology is facing high amount of carbon emissions. It needs to be corrected. Homo Sapience residing in European region are waking up, but folks in developing nations like India are still clueless about climate change.
Ravi Subramanian, Business Development Manager-Asia, HES commented:
"This project is an important, progressive step towards unlocking the potential of hydrogen as sustainable transportation fuel and alternative energy source not just for India but the rest of the world."
Dr. Niranjan Raje, former director of Indian Oil and the Principle Investigator for this project also consider it as a milestone and said:
"Although this is a demonstration project, this will be a major stepping stone for India to move towards the hydrogen economy."
The project is funded by the MNRE and partially supported by the National Institute of Solar Energy (NISE). With this project, Air Products now claims three hydrogen fuel stations in India. Air product is indulged in over 180 large hydrogen fuel projects around the world and it has 60-years of experience in this field.
Earlier, Air Products had commissioned a hydrogen fueling dispenser in Pragati Maidan, Delhi where it supplied hydrogen to a fleet of rickshaws.