India's largest floating solar power plant installed in Kerala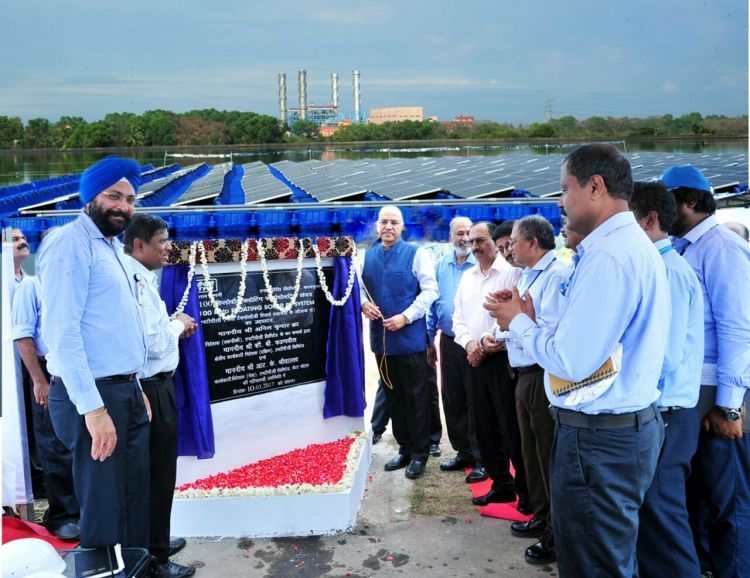 India is well on road to its planned 100GW solar-power generation capacity by 2022. The biggest problem country is facing with solar plant installations is requirement of huge areas of land. With a floating solar power plant, Thermal Power Corporation Limited plans to change that forever.
NTPC begins solar power generation at the country's largest floating solar power plant installed at Rajiv Gandhi Combined Cycle Power Plant (RGCCPP) in kayamkulam, Kerala.
NTPC's floating solar power plant has a capacity of 100 kWp.
The patent pending floating solar plant is by NTPC Energy Technology Research Alliance in collaboration with Central Institute of Plastic Engineering & Technology (CIPET), Chennai.
The plant is developed as part of "Make in India" campaign of government of India, which is initiated to increasing manufacturing in India.
The panels were installed at the plant in just 22 days by Swelect Energy Systems Ltd, Chennai in association with NETRA & NTPC Kayamkulam station.
According to NTPC, in addition to saving land, the floating solar panels are more efficient than ground mounted panels. The floating photovoltaic panels are quicker to install and more power generating.
Solar panels can now even be placed over saline water, which means, such systems are beneficial to a country like India that has abundant availability of water bodies and dearth land due to population.