Plastic bottles recycled into polyester yarn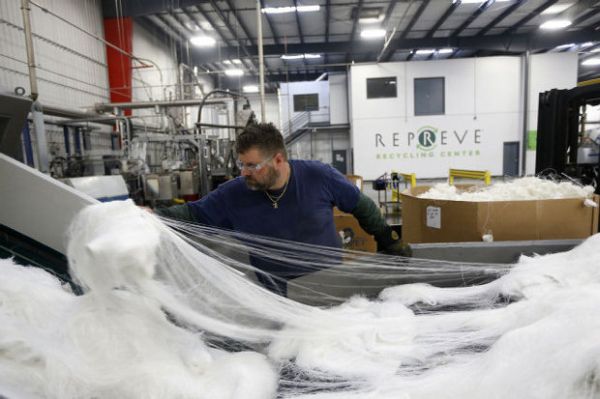 The sight of plastic polluting our landfills is definitely not one of the best sights you would want to witness. How about the idea of converting all that waste plastic into trendy clothing? Unifi Manufacturing Inc., a North Carolina-based company is doing just that. A $10 million recycling facility at the Unifi Manufacturing plant in Yadkinville converts waste plastic bottles and other polyester waste into useful yarn. Sold under the name Repreve, the yarn is fashioned into Polartec fleece jackets, automotive upholstery fabric, men's slacks, sweat-wicking socks etc.

It was the company's continued investment in research and development that brought a high-tech yarn to life. Unifi began producing Repreve back in 2006 and started selling it to Polartec in 2007. The popularity and ever increasing demand of Repreve forced the company to look for alternative to meet with its raw material requirement. Unifi finally decided to recycle used water bottles to obtain the precious yarn.
Unifi purchases the bottles that are sorted, cleaned and crumbles into small pieces, which are then melted, blended and formed into BB-sized pellets at the yarn-making plant. Then these pellets are again melted, pushed through shower head like tiny holes and operated upon by air and temperature. Finally, they are formed into threads of different shaped and thickness.  The yarn which is produced using this highly automated process that relies on computers and robotics do not have a very good texture. In order to obtain a good texture yarn, it is sent to the texturing side of the Yadkinville plant, where air and temperature again operates on the yarn to provide it with strength and stretch.
Last year, the $10 million Yadkinville recycling plant is said to have uses plastic flakes from more than 410 million plastic bottles. Unifi certainly needs to be applauded for its green effort to save the environment.
Via: NewsObserver